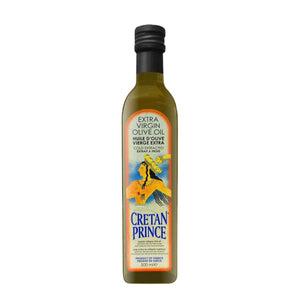 Extra Virgin Olive Oil - "CR.PRINCE''
CRETAN PRINCE Extra Virgin Olive Oil has become our main product line for years. A product which includes the Cretan Minoan culture for the ancient times and the main characteristics of the Cretan olive oil .

A high quality extra virgin olive oil ,produced by cold extraction in our olive oil mills .Combines the nutritional attributes of the extra virgin olive oil with a deep fruity , aromatic flavor and a light gold green color.

"Cretan Prince" is a natural authentic Cretan fresh olive oil juice .