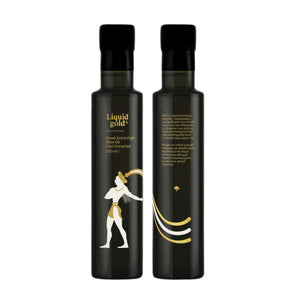 Premium Extra Virgin Olive Oil- - LIQUID GOLD
The Liquid Gold is a superior quality monovarietal Extra Virgin Olive Oil of limited quantity.

A product synonymous to PURITY, an Extrissima Premium olive oil that constitutes the GEM of the "Cretan Prince" line, as the eventual outcome of its progressive evolution.

Solely based on the extracted liquid gold obtained by "scratching" fresh olives flesh of Koroneiki Variety, the Liquid Gold demonstrates a high content of polyphenol with intense fruitiness and exquisite taste and aroma.

If you want to start your day well, build it from "scratch"!